What will you learn from this book?
Everything will become easier for you due to (among others) the 109 colour object photographs and drawings, detailed and in-depth descriptions as well as a huge amount of advices and comments.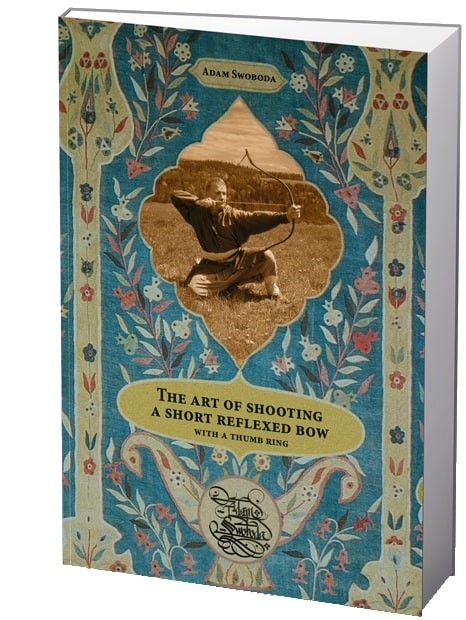 author: Adam Swoboda, 172 pages, full color, index, 9.29″x6.38″x0.71″ (23.6cmx16.2cmx1.8cm), sewn hard cover. ISBN 978-83-933621-1-0.

A few words from the author
I often encounter questions and become involved in discussions on various topics related to shooting with a thumb ring at archery meetings and tournaments and on archery Internet sites. Many of these topics come up again and again. I wanted my book to offer answers to many of these questions in the most straightforward, readable manner while also providing a comprehensive treatment of the topic so that one source would present nearly all the available knowledge of shooting with thumb rings.
The story behind the book
Archery has always fascinated me. In my case I don't think this is an exaggeration since this adventure has already spanned over forty years. As often happens when you are fascinated by something, I was initially interested in everything to do with bows. For a brief time I was even involved with the sport of archery. However, always shooting from predetermined distances at the same targets was too monotonous and boring for me. The bow had always been associated in my mind with a certain independence. Shooting in varied terrain at completely incidental target turned out to be decidedly more attractive to me.
For the past fifteen years, I have focused exclusively on traditional archery. Like all traditional archers, in the beginning I searched for my own path and experimented with different types of bows. In the end, I finally settled on eastern archery and the reflexed bow. After I became the proud owner of a wonderful copy of a Turkish bow made by Adam Karpowicz, my interest was cemented for good. This bow has played a central role in the creation of this book. Additionally, it has, in a certain sense, forced me to learn to shoot using a thumb ring [….]
This book grew out of my experiences as I learned to shoot this unique bow using an archer's thumb ring. I gathered essential theoretical knowledge by reading available sources and through the exchange of experiences with such wonderful Turkish archers as Murat Ozveri and Michal Sodja and with my friend Jarek Bełza, who is a wealth of archery knowledge, as well as with many others. My correspondence with Adam Karpowicz was an invaluable source of information [….]
My main source of information was medieval archery texts written in Arabic and translated into English [….]
The techniques described in the book probably originate from Persia. The discovery and development of many of them is attributed to the leaders of the Sassanid dynasty[….]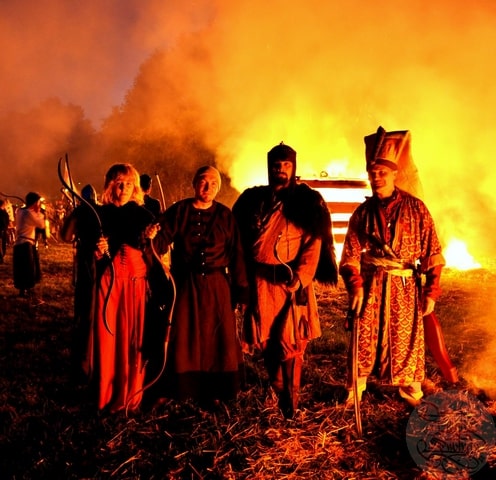 What experts say about the book
Most archers today are familiar with bows made of synthetic materials and modern shooting methods which commonly employ sighting devices and mechanical string releases. While some have heard of drawing the string with three fingers, few are aware that Eastern methods were also used in the past. Among these methods, the best known was shooting with a ring; the so-called thumbring, allowed holding the bowstring with the thumb. This drawing method made using short Eastern bows more comfortable, and it was particularly important in horseback archery. Armies of mounted archers equipped with short reflexed bows terrorized the world at the time conquering half of Europe and most of Asia. The arrows of Turkish archers trained in flight shooting reached distances of over 800 m.Interest in the traditional archery of the East has increased steadily over the last few years. There are many websites and interest groups as well as horseback archery clubs. Many types of reflexed bows can be purchased, including those made in the traditional manner. Although many books have been published on this topic, we still do not know much about ancient shooting methods, and new owners of reflexed bows often do not know how to start. Adam Swoboda's book fills this gap very well.Very few traditional archers possess Swoboda's qualifications in this unusual field.The author not only found original sources, he also interpreted them in a way that is accessible to modern readers. This was an extremely difficult task which required a thorough understanding of equipment, as well as an in-depth knowledge of archery based on many years of practice.The reader will discover not only detailed and comprehensive descriptions of traditional reflexed bows, the positions of the archer while shooting, the grasp of the bow and methods of release, but also systems for aiming, which is often the most difficult skill for the archer to master. Even injuries that can be sustained from shooting are explained clearly and logically on the basis of original sources.As a veteran user of the thumb ring, I have no doubts the book by Adam Swoboda, recommended for beginners and experienced Eastern archers alike, will become an essential addition to the archer's library and will contribute to the popularization of this fascinating sport.
The first glimps revealed a high-quality book, from his paper weight to its well-made hard cover and brilliant pictorial content.Since then I have been trying to understand the texts, at least the few words below the photographs. By the way, photographs are really good! Honestly, I've never felt such an urge to learn a foreign language. I wanted "badly" to read and get into the book. A book that would attract and "absorb" any reader.And thank you for honoring me in your book. It's an undeserved honor and great pleasure to see my name in your book, and additionally with Adam Karpowicz's and Michal Sodja's. Good that Adam wrote the forward, another attractive feature of such an excellent book.The book will surely make any archery enthusiasts happy. Congartulations and thanks a lot!
I strongly endorse Adam Swoboda's book for anybody who would like to learn to shoot with a thumb ring. There has never been any comprehensive and so complete work done in modern language to date that would help us in understanding of shooting short, reflexed composite bows of Asian origin with the use of thumb draw. This work is as important, in my opinion, as the work of Klopsteg, Elmer and Karpowicz among others. I strongly recommend this work to anybody, who is inclined to learn this technique of shooting traditional bow.
This is a unique book. Adam has done a great job in gathering together and presenting systematically all the available historical materials. An additional advantage of this book is the fact that Adam is an archer and has tested personally all of the techniques described. I have no idea how he has managed to present such a vast number of details so accessibly, but he has.Archers who are interested in shooting with a thumb ring will find this book an invaluable source of information. It is, in fact, a ready textbook from which one can choose one's own optimal technique.The book also presents the entire richness of Eastern archery, while also ensuring that these achievements will not be lost to history.
This review concerns a new book by Adam Swoboda about a particular branch of archery which is made clear by its title, The Art of Shooting a Short Reflexed Bow with a Thumb Ring 1. This title might seem verbose, but it must be understood that thumb rings were used to shoot other than short reflexed bows 2 and short reflexed bows were sometimes shot using two fingers rather than the thumb. Using the information supplied in such books as Arab Archery 3, Saracen Archery 4, and Turkish Archery and the Composite Bow 5, he has set out to synthesise a modern technical manual for shooting in this traditional manner for the modern archer. Unlike his sources, his book is fully illustrated showing postures and techniques in a way earlier authors could have only envied.[...]
This book by Adam Swoboda is an excellent resource for everything I enjoy about archery and horse archery. [...] The photos are very clear, the book thorough and exhaustive, and the breadth of knowledge quite academic. I spent quite a bit of money on SARACEN ARCHERY by LATHAM. This book covers more, and is clearly on par with everything in that book.I strongly recommend it to anyone who wants to learn the art. I am reading it now, and find it is thorough and knowledgable.[...]
The Art Of Shooting A Short Reflexed Bow With A Thumb Ring
author: Adam Swoboda, 172 pages, full color, index, 9.29″x6.38″x0.71″ (23.6cmx16.2cmx1.8cm), sewn hard cover. ISBN 978-83-933621-1-0.
SHIPPING WORLDWIDE – Weight Based

$49,00
46 in stock